Today on this packed MONDAY Bucky & Sully Show we got into the outcome of the Bills game versus the Lions at home in which they held on to beat Detroit 14-13! The Sabres also had a 1-0-1 weekend against some of the NHL's elite. 
We had some very interesting audio from post games of both the Sabres and Bills and the satisfying weekend of victories the teams managed! 
Obviously at the top of our second hour we got a very assertive Bucky featured in his daily spot BUCK UP! Then, in our third hour, to kick it off, Jerry was extra-super salty in his SALTY SULLY!
For the holidays we added a new segment where the guys reveal their twelve favorite stories, one per day, they covered over their long careers! This was DAY 8 and we did in our third hour!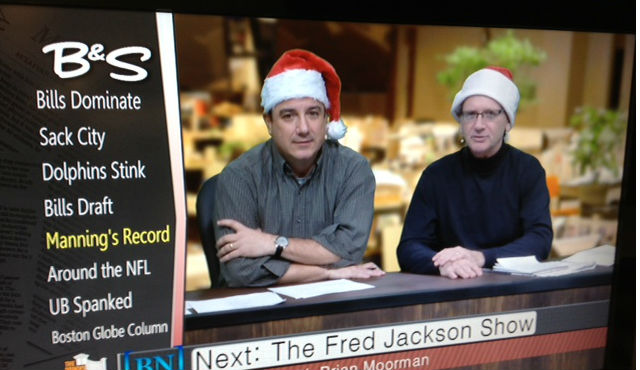 Legendary Syracuse Basketball Head Coach Jim Boeheim joined us at the top of the third hour and he was fantastic! UB heads to the Dome in Syracuse tomorrow night and he broke down the match up!
Our THERMOSTATS were peppered throughout the show and we satisfied the waiting ears with some very tantalizing stats regarding what the guys feel are OUT OF THIS (SPORTS) WORLD! Back Tomorrow at 9!
_ALSO AVAILABLE ON APPLE PODCASTS! | TUNEINRADIO!
HOUR 1:We got into talk about the Bills Lions matchup from yesterday and got some sound from post game! We also talked Sabres status from over the weekend and the big three points they picked up in two games. 
HOUR 2: BUCK UP! Did infact take place! We also got into more Sabres and Bills audio as well as a preview of SU/UB matchup in Syracuse tomorrow. This all in preparation for Jim Boeheim joining us at 11am! 
HOUR 3: SALTY SULLY, oh so salty, he kicked off the hour. We kicked off day 7 of our '12 Stories For Christmas' with the guys telling their daily, favorite stories of their careers!